Pet food or pet service are booming services and no wonder you may be looking for the best Shopify pet food themes on the market. In this article, I will show you the top Shopify pet food themes (free & paid) that you can easily use for your store. Make sure that your store looks appealing and invite as many customers as you can.
Foodie
Foodie is a paid Shopify theme with many versatile features which is focused for small inventories with many popping colors. The theme also supports the sale of age-restricted products and physical stores, so you can think of selling more than just pet food. Foodie theme also lets you show the ingredients or nutritional information, which is perfect for pet owners who want to keep an eye on such information.
Price: $250
Review: 5.0/5 (rating from shopify app store)
Boost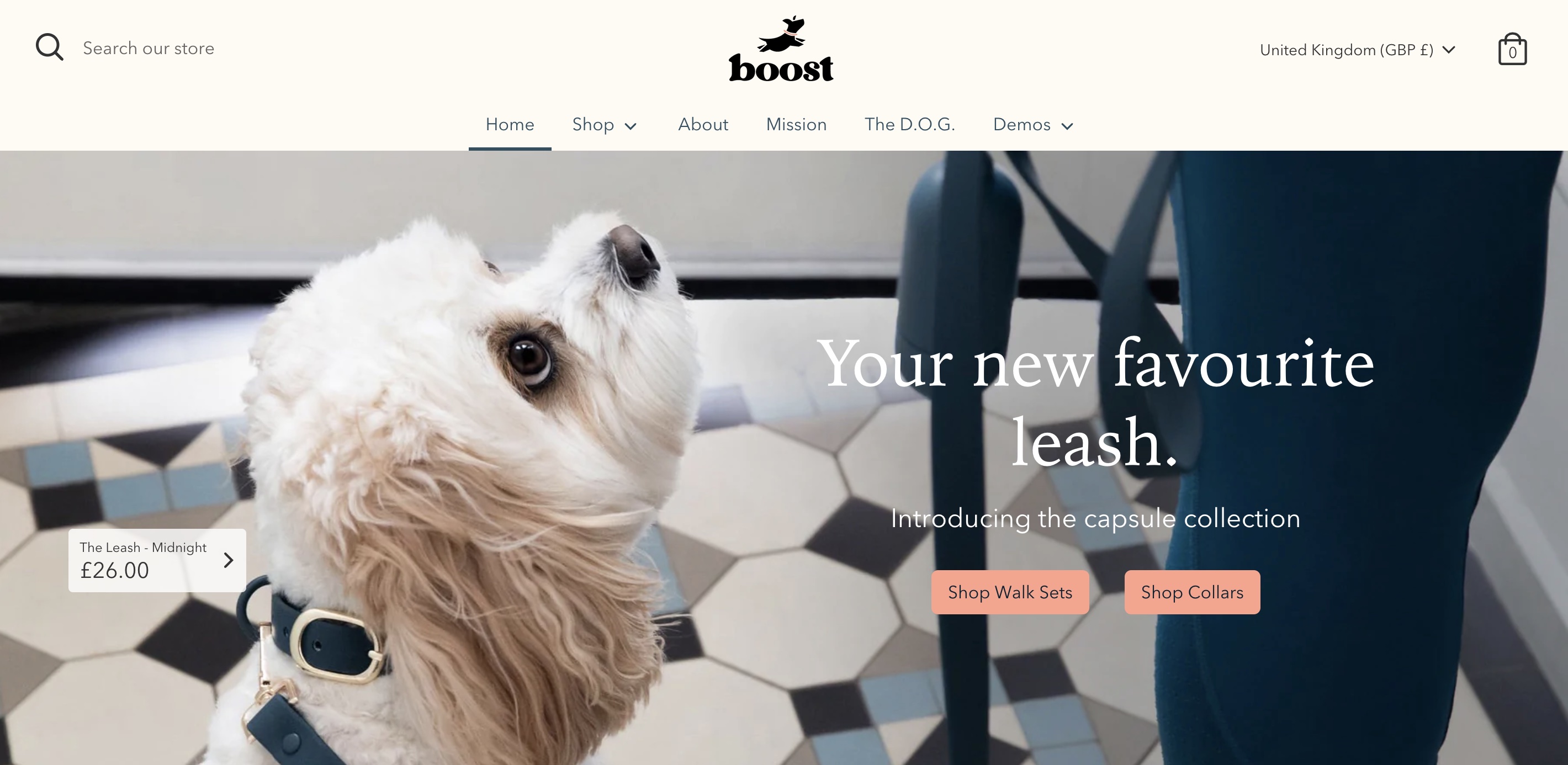 Let your brand identity come through with feature-rich sections, interactive content and customised promos that Boost theme - a paid Shopify theme for pet stores provides. Loaded with all the tools you need: SEO, performance, adjustable sections, promotions, powerful product filters and much more. Your pet products would look lovely with this theme, and you have all the best image sizes to show the cute pet, even with a product video section.
Price: $300
Review: 4.0/5 (rating from shopify app store)
My Pets theme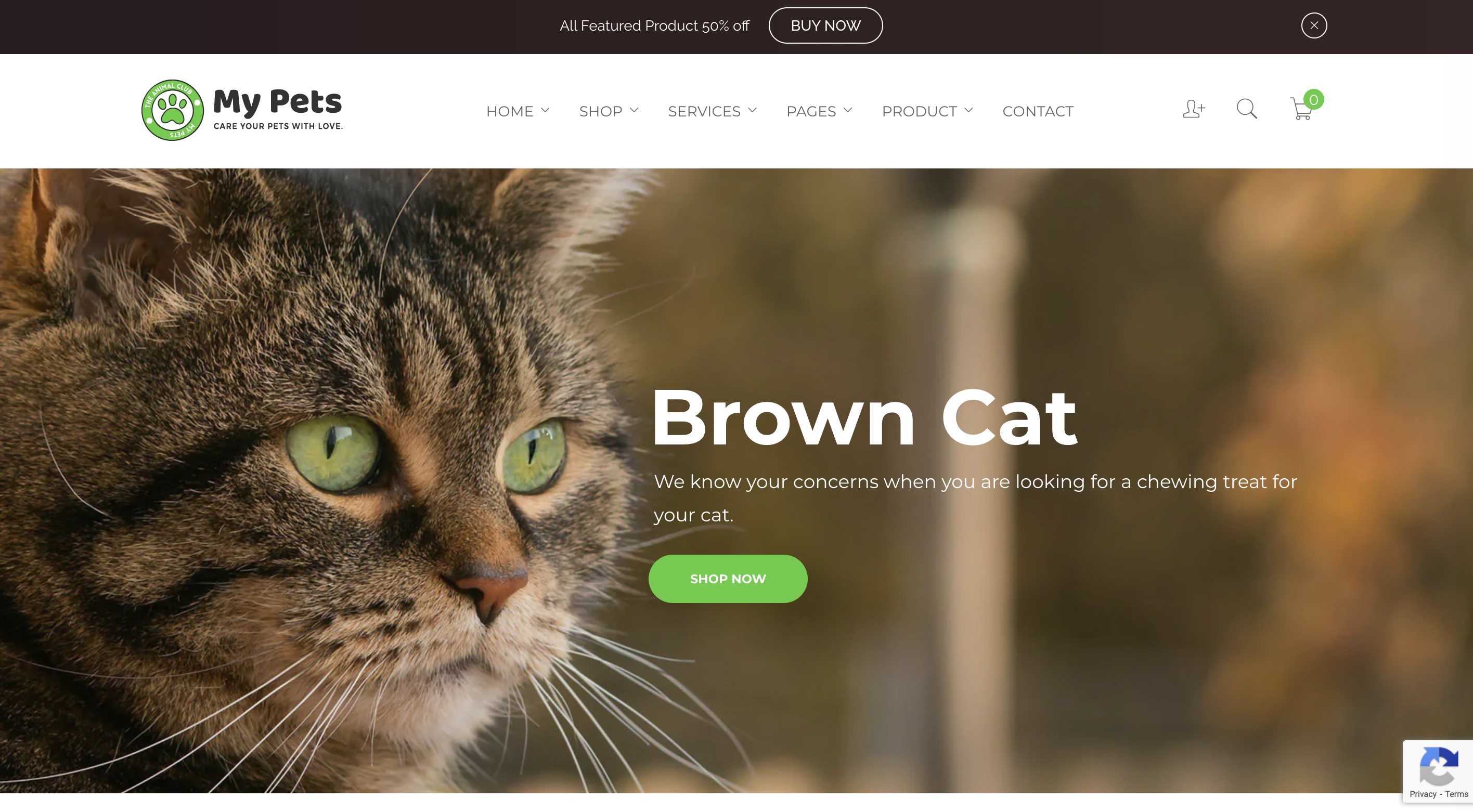 The Themes-Hub team's My Pets - Pet Sitter, Pet Shop, Animal Care Shopify Theme is an excellent theme for numerous pet companies. With many readymade parts, My Pets is a completely ideal theme for an animal care store. It can help you create your own online business. This theme suggests pet services, chew toys, animal care, and veterinary care for your animals. Install it right away to receive support around-the-clock!
Display banner and video banner with content, show testimonials to increase your credibility, see items in grid view or list view, and the theme is integrated with Google Analytics to give you a broad understanding of your data.
Price: $48
Review: 3.64/5 (rating from shopify app store)
Minion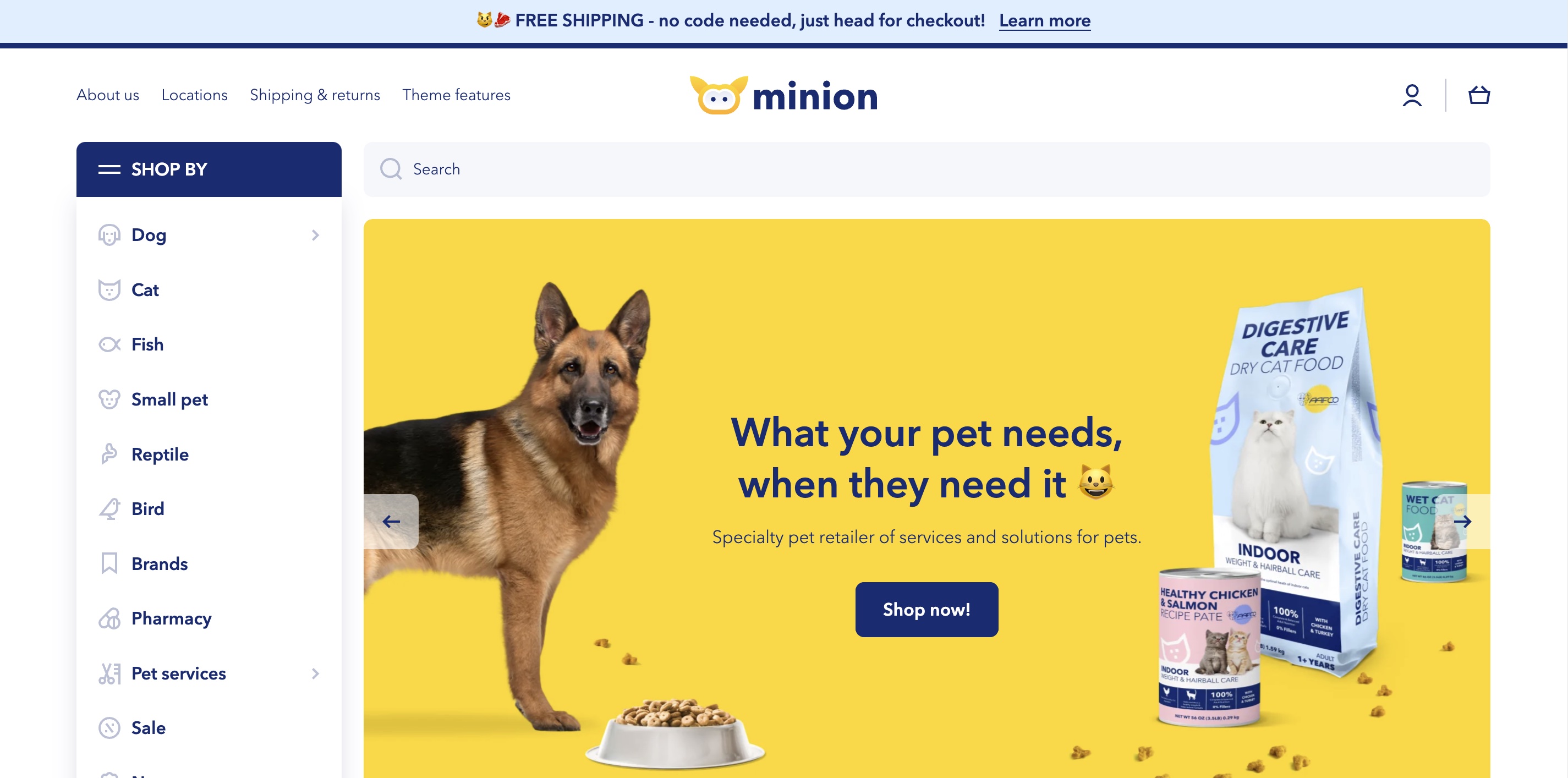 Minion is a paid Shopify theme which is perfect for the pet business. It comes with adaptable features that allow it to fit more niches and full customizability with 24 segments. You can create a customized layout for any page. There are options for flexible design and personalization to realize your chosen vision. 3 different types of navigation allows for the most layout, design and possibilities to fit your petbrand. Design the theme is quick, small, and easy on the thumbs.
Price: $250
Review: 5.0/5 (rating from shopify app store)
Marten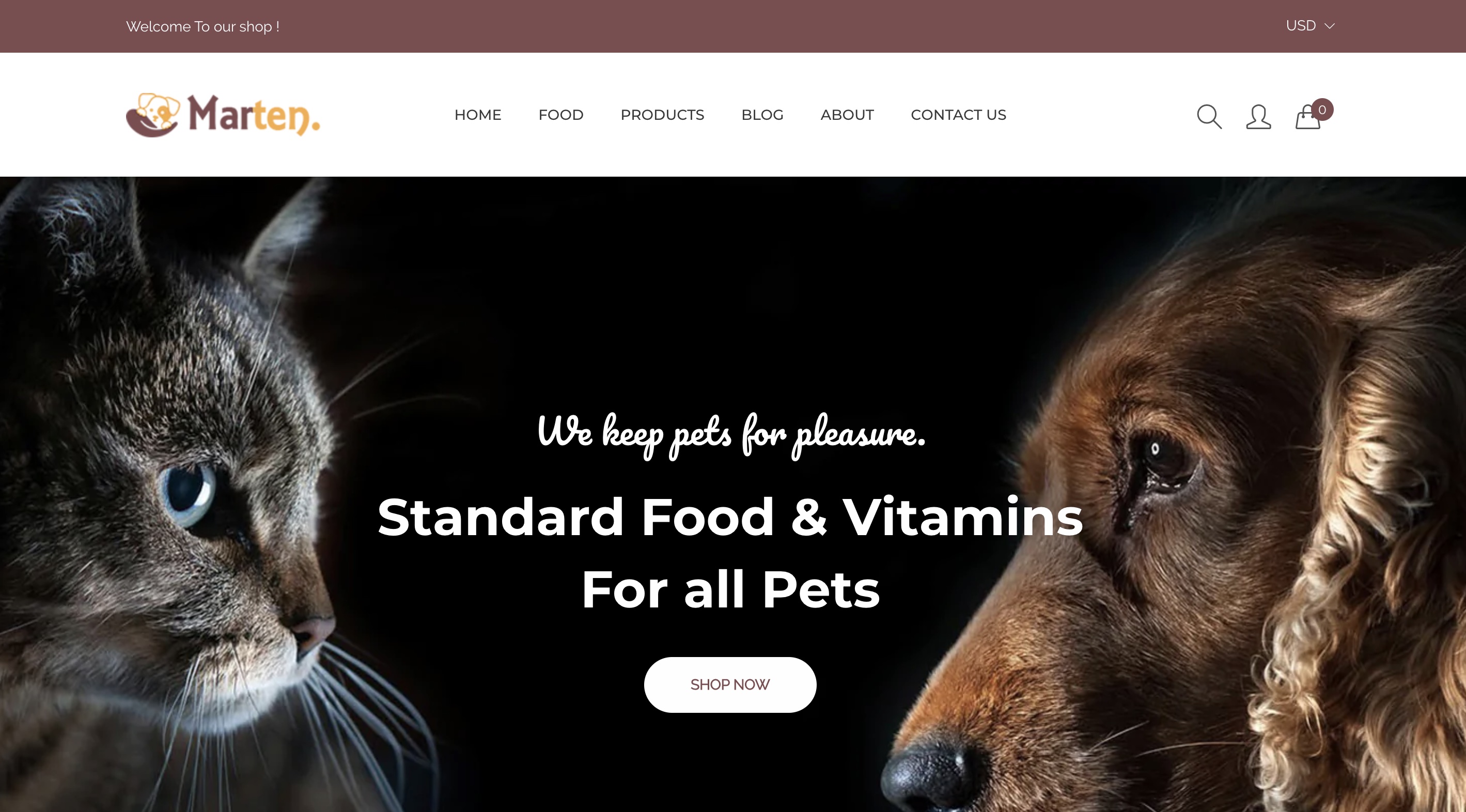 A contemporary, responsive, and lovely pets theme for managing pet business websites is called Marten - Pet Food, Pet Shop, and Animal Care Shopify Theme. For pet food retailers who sell animals including puppies, kittens, birds, and aquariums, this new Shopify premium is ideal. The Marten theme is simple to customize to your own business needs. Powerful Shopify Sections are already built-in, and a drag-and-drop page builder is used. Additionally, as Quick Install is the simplest method for installing a theme, the theme has it incorporated.
Price: $48
Review: 4.0/5 (rating from shopify app store)
Paws Pet Store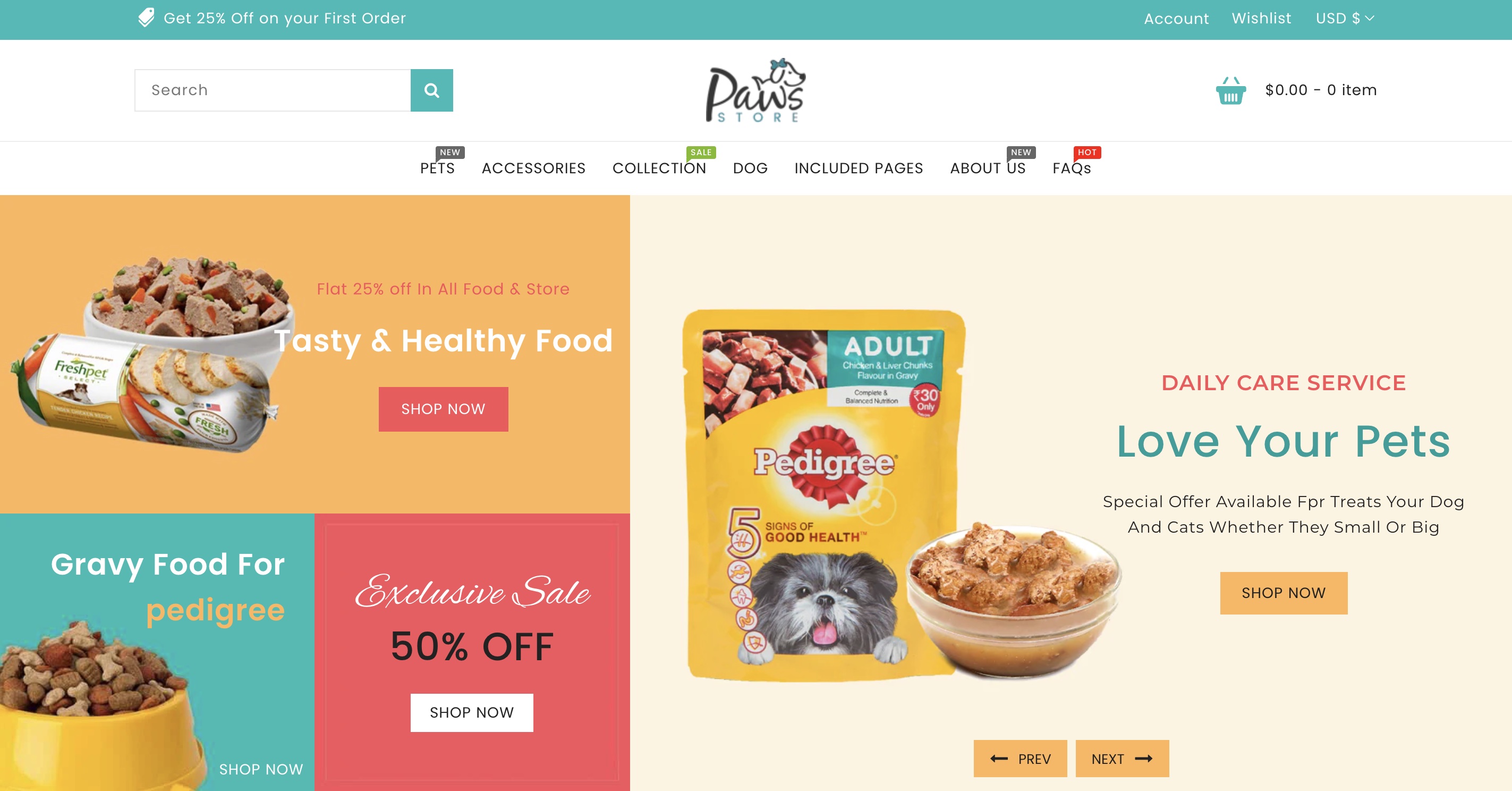 There is no way you should or could pass up Paws Pet Store, one of the most potent and adaptable Shopify pet store themes, if you want to go above and beyond and make the first impression with your consumers matter.
With several built-in features and countless design options, you may essentially have total control over the appearance and feel of your pet store website without needing to have much technical knowledge.
The well-designed and coded Paws Pet Store gives you more leeway to express your creativity. You can utilize hover effects to spice up your website or add a full-width parallax banner to add a 3D effect as your consumers scroll.
Price: $78
Review: 5.0/5 (rating from shopify app store)
Amber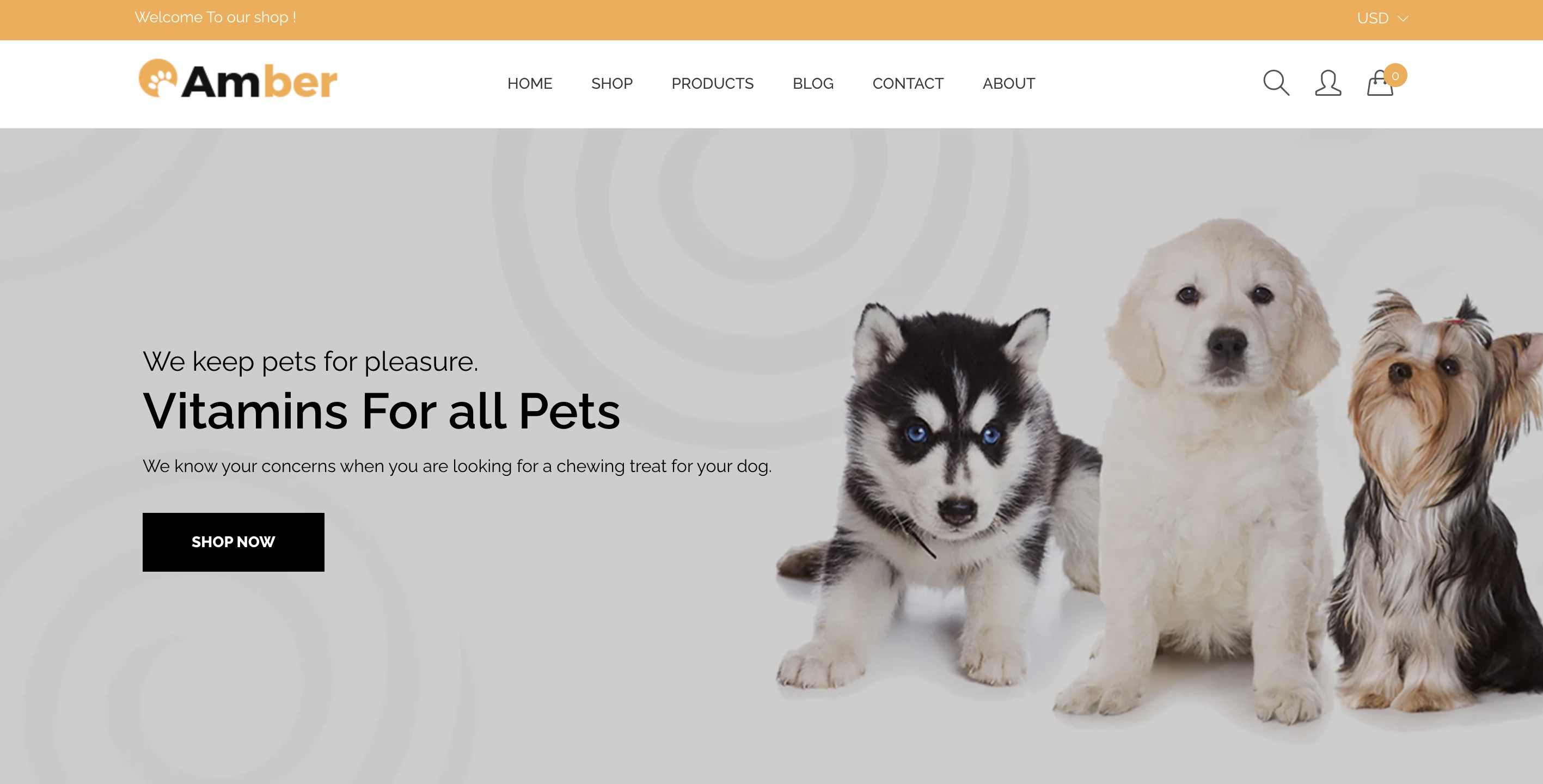 If you require a contemporary, expertly designed theme with a wide range of eCommerce-ready features, Amber is a great choice.
Any element on your website can be readily customized to your preferences using the drag-and-drop editor. This covers topics like how to show advertising banners, highlight top sellers, highlight client endorsements, or incorporate a countdown timer to launch FOMO campaigns, among other things.
Amber, one of the top Shopify pet store themes, is SEO-optimized to guarantee a quick website load time. Additionally, it comes with thorough documentation that you may familiarize yourself with.
Price: $48
Review: 3.0/5 (rating from shopify app store)
Boost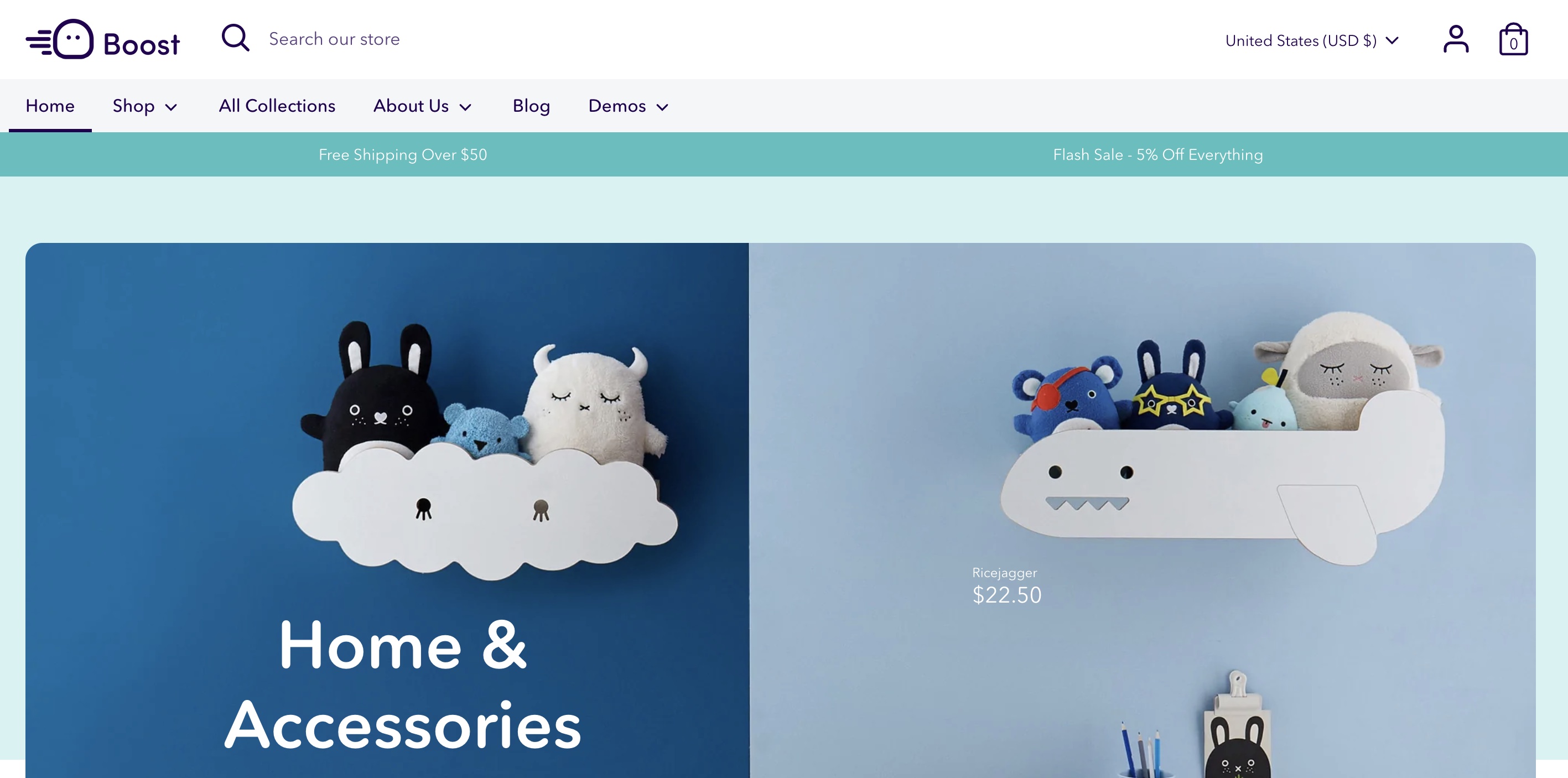 Because of its strong built-in eCommerce functionalities and breathtaking parts, Boost is one of the best Shopify pet store themes for your company. Seriously, if you sell pet accessories and toys, there is no way you could miss out on this great theme!
This theme's excellent feature is that you may add numerous blocks and sections, and they really enhance one another. A number of attractive marketing tools are also included in Boost, one of the top-rated themes on the Shopify themes market, to help you increase your conversion rate.
Price: $300
Review: 4.1/5 (rating from shopify app store)