If you have a large number of products, for example, you have to make sure your buyers can easily navigate through them. With Shopify 2.0 recently introduced, store owners now have powerful filtering tools to save time for themselves and customers.
Reduce browsing time, offer a smooth shopping experience, and ensure fast conversions, those are just a few of the benefits. In this guide, let's take a closer look at what you need to know about Shopify collection filters and how to use them for the best results.
What is the Shopify filter?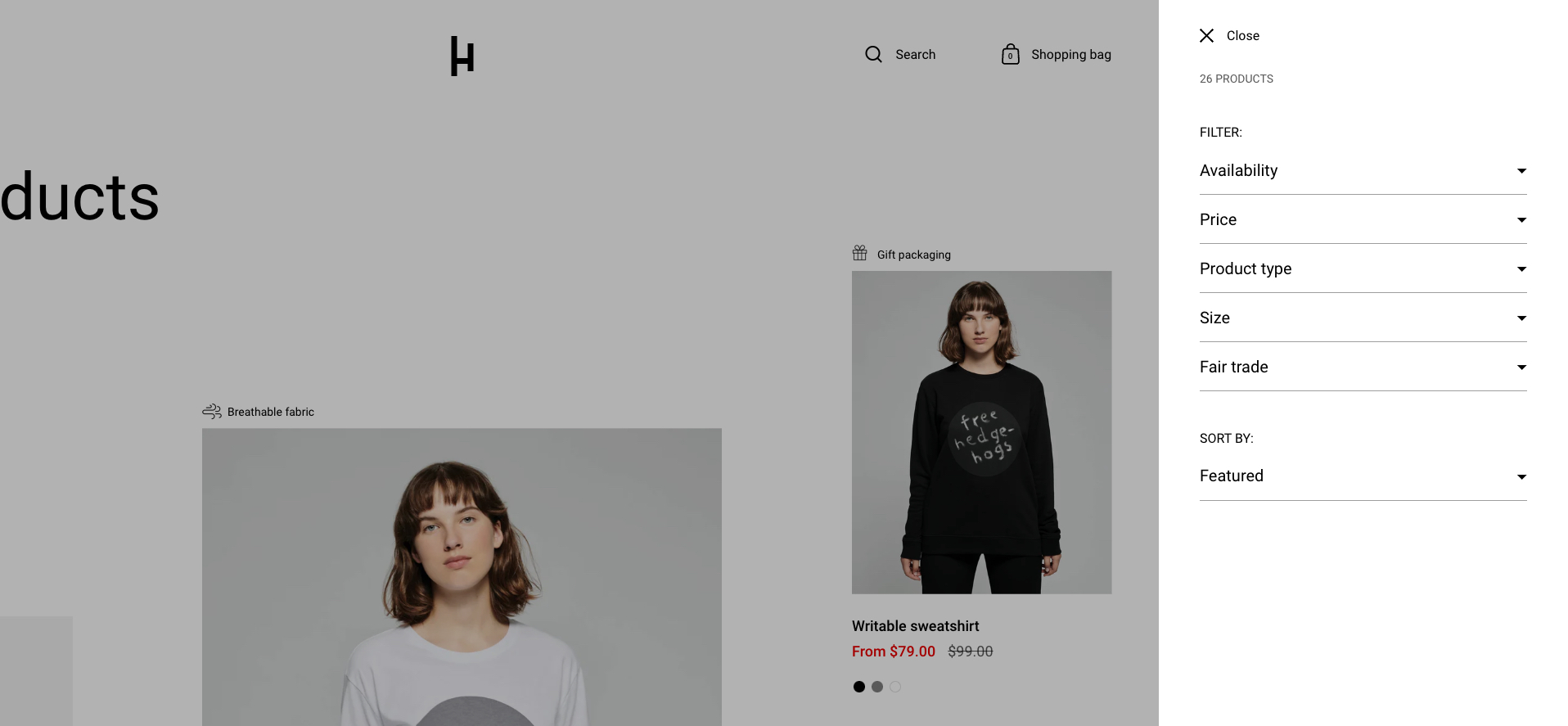 Shopify collection filter is a feature now incorporated into all Shopify 2.0 themes, which allows customers to narrow down the product search with options like price, availability, size, color, brands, etc.
Buyers can then find the exact products based on their needs without spending a lot of time searching. Implemented properly, such a quick search experience will make buyers checkout more quickly and minimize site exits.
If you are unaware of using Shopify themes for your store, check out Shopify Theme, which provides many eCommerce themes that are wonderful to use.
Why should you use Shopify filters?
Consumers lack patience. They need to locate the precise product as soon as possible. This explains why online customers spend 5 minutes on average on a website. Customers want to be able to find the product, thus they even search for things using the precise keywords for this purpose. However, if they made any typing mistakes, their search would return nothing.
According to statistics, if a person cannot locate what they are looking for on a website within 15 seconds, 75% of people leave. This explains why only 2.86 percent of visitors to eCommerce websites make a purchase.
On your Shopify store, your filter will be a feature that makes searching easier and more enjoyable.
What's new in Shopify 2.0 collection filters?
You can now show the Shopify filters on your store if you are using 2.0 themes. Most free themes on the Shopify Theme Store now have this feature. You can find the filter options in your store at Online Store -> Navigation from your Shopify admin.
You have two types of Shopify collection filters to add to your collections: First, Default Filters, and second, Custom Filters.
Default Filters: There are four options to enable, which are availability, primary price, product type, and vendor (brand).

Custom Filters: There are existing product variants (which you can define while creating the product) and an option of metafields (product and variant metafields) which you can set up in the store.



In case you don't know, this is a major step up from the old type of collection filter setup. Because with Shopify 1.0, you can only set up filters with each theme, and you have to do it inside the Theme Editor, not the Shopify Admin.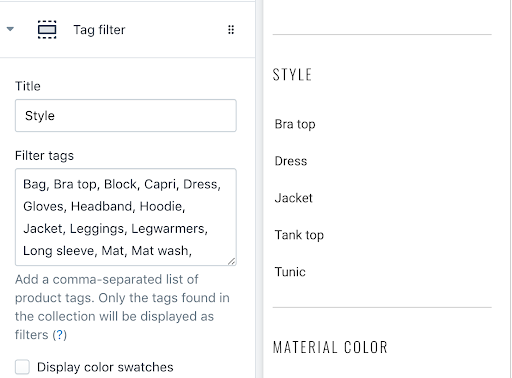 The old filter in Shopify 1.0 that can be confusing and time-consuming to set up
The problem was that you have to find themes that actually have the filter feature built in, then add custom tags to filter products. This was so inconvenient because each theme can have different rules and formats and you have to spend time manually editing all tags. And if you change or update the theme, all filters have to be set up again.
But, now, with Shopify 2.0, you have standard built-in filters that make sense and work for all themes so your customers can browse better, and you can manage better.
How should you use Shopify filters?
Now let's go through what you can set up with the shiny new Shopify 2.0 Collection filters, there are many things that you wouldn't want to miss.
1. Basic product filter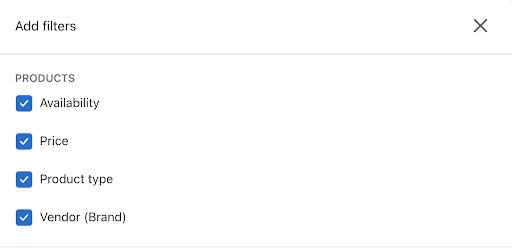 Basic product filter
First, there are 4 default filters that every Shopify 2.0 store would have, which are:
Availability

Price

Product type

Vendor (Brand)



Among these, the Price filter is probably the best time-saver because back in Shopify 2.0, you had to manually enter all the price ranges for filtering. The Product type filter is useful too as now you can more easily categorize your products through this.
2. Product options filter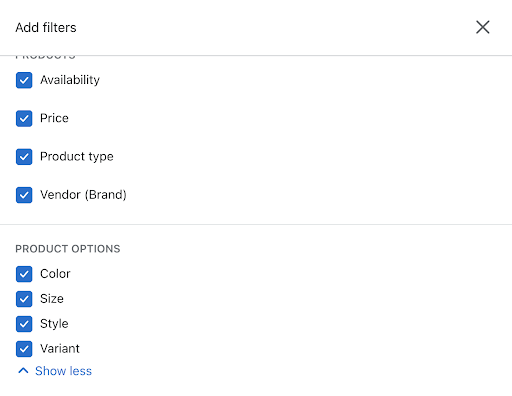 Product options filter
Next up, we have the product options filter. This will dynamically load from how you set up variants and options for your products. If you don't set up any options, there would be no checkbox to select in this section.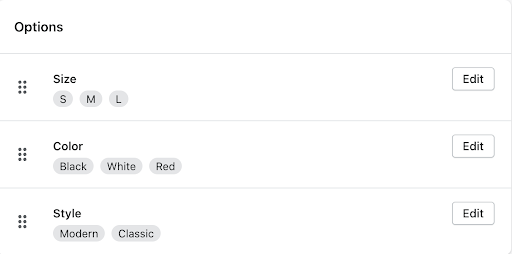 This is the options I set up for one of my product
But, be careful that if you delete products that have these options, they will also disappear from the Product options section inside the filter setup.
3. Custom metafields filter
If you used Shopify 1.0, you are probably wondering why Shopify removed all the tag filter options to customize based on different variants of your products. Well, don't worry, because now you have custom metafields.
Metafields are basically custom fields that you can create to show up next to the options that Shopify provided - which will make your store's filter more robust and match your customers' needs better.
To set up Metafields, go to Settings -> Metafields. Let's start by clicking on Products since we want to have filters for products.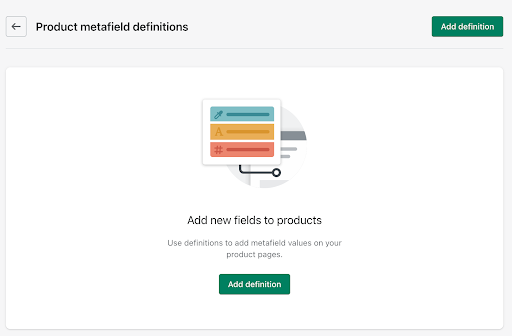 Here, click on the Add definition button to create your metafield.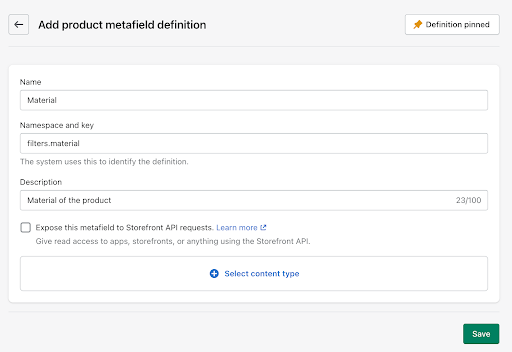 There are several fields that you can fill here:
Name: The name of the custom filter

Namespace and key: The codename that you can use to manage your metafields

Description: An optional description to understand what the metafield is about

Select content type:  There are many options here, but the easy way is to select Single line text and write in your custom metafields.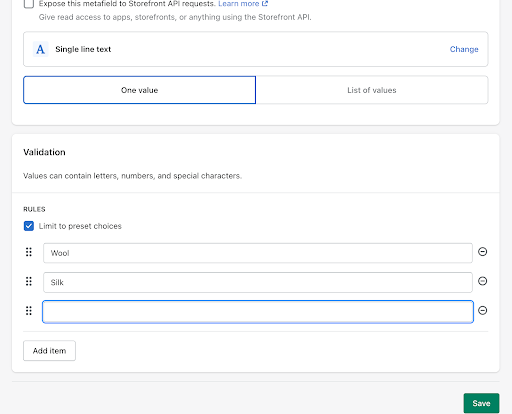 Validation: Here if you choose Limit to preset choices, you can set up values for your metafield filter.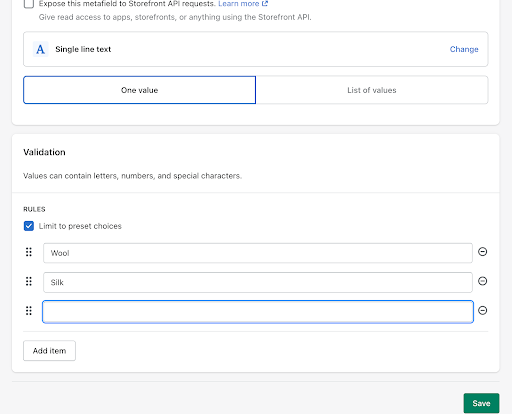 Once you define your metafields and click Save, they will show up at the bottom of the product page's admin.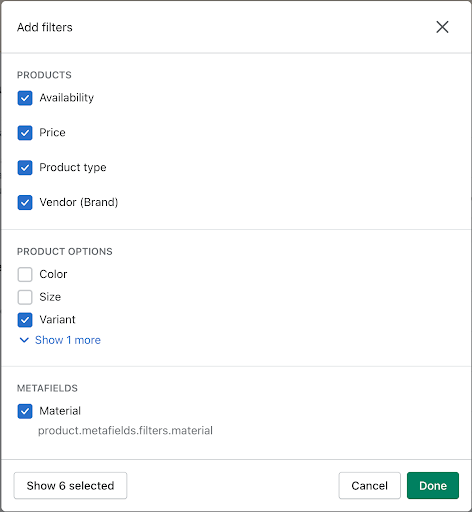 Now, when you go back to your filter settings, you can find the metafield option to add into your store's filter system.
Then, you can see all your filters on the frontend of the store. That is how you create custom filters for your products.
Our solution to make Shopify filters even better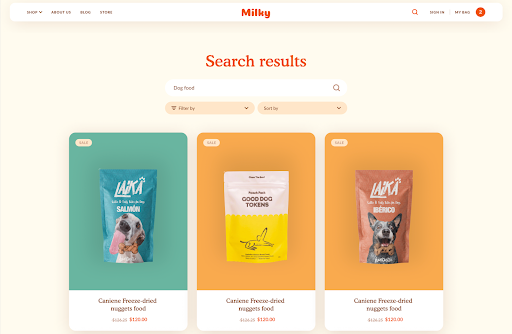 Even though the new Shopify 2.0 collection filter is great already, there are still downsides to it. For example, you will have to spend some time understanding all the jargons of the metafields.
To simplify the problems for Shopify store owners, we are planning to roll out a collection of Shopify themes - which are not only beautiful but also have powerful filters that can recognize all the custom variants you have, such as colors or materials, and more.
Subscribe for our emails to receive the exclusive deals of our themes when we publish. Stay tuned!