Not sure how to keep your customers interested? In this article, discover how web stories may enhance your Shopify store and increase sales by doing so.
Not sure how to keep your customers interested? In this article, discover how web stories may enhance your Shopify store and increase sales by doing so.
Shopify offers so many capabilities that store owners are frequently baffled by them. Since there are so many various templates to take into account and design decisions to be made, even seasoned designers require some time to process everything. We want you to think about one particular design option out of all the ones that are offered. 
Web stories, specifically, may enhance your Shopify store and make it that much more interesting and seductive, as our delighted clients can attest. We will look at how web stories might benefit your Shopify store in this article.
First of all, you should take a look at our app - XO Story - which helps create engaging web stories on your Shopify store with minimal effort.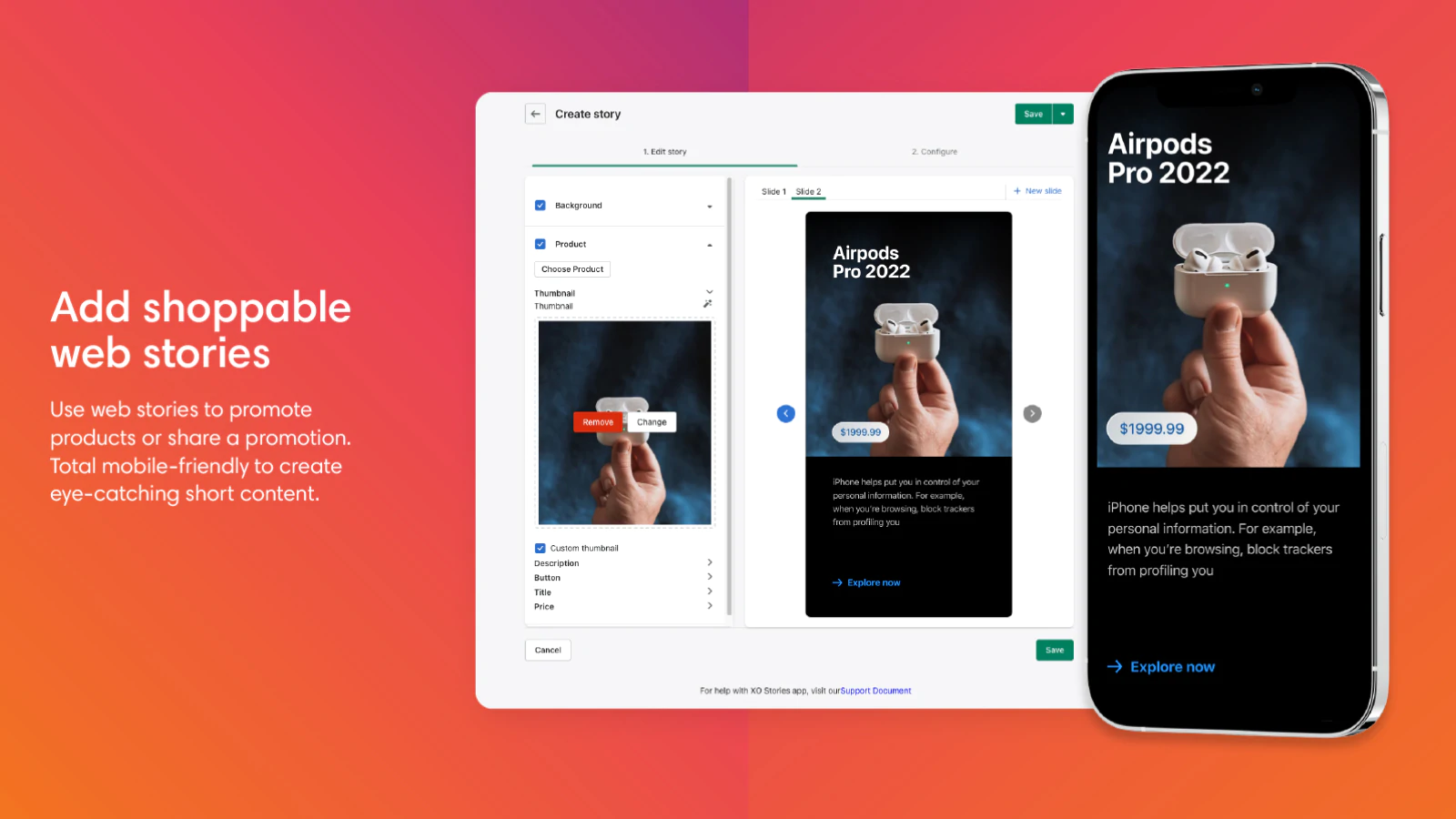 There are several ways that web stories might enhance your Shopify store.
1. Web stories help you engage with the visitors better
One of the key objectives of every store owner is to come up with novel and intriguing techniques to attract clients. Your store will determine how you should engage them. After all, you must comprehend both your brand and your target audience. However, web stories can be used to great advantage if you do have a sense of the type of design that will appeal to your target audience.
2. Web stories help you keep the customers informed
You may easily educate your customers about particular products by using web stories. Although you can also do this with written content, you shouldn't always do so. To read up on a product, a customer must be very interested in it. Your clients simply need to have a passing interest in your goods if you employ online stories. They can learn everything they need to know about a particular product from a straightforward, well-written online narrative.
We strongly advise you to focus more on visual components than on written content when attempting to explain how to utilize a product. In order to avoid relying entirely on written content, it should be reasonably simple to create a visual depiction of a product.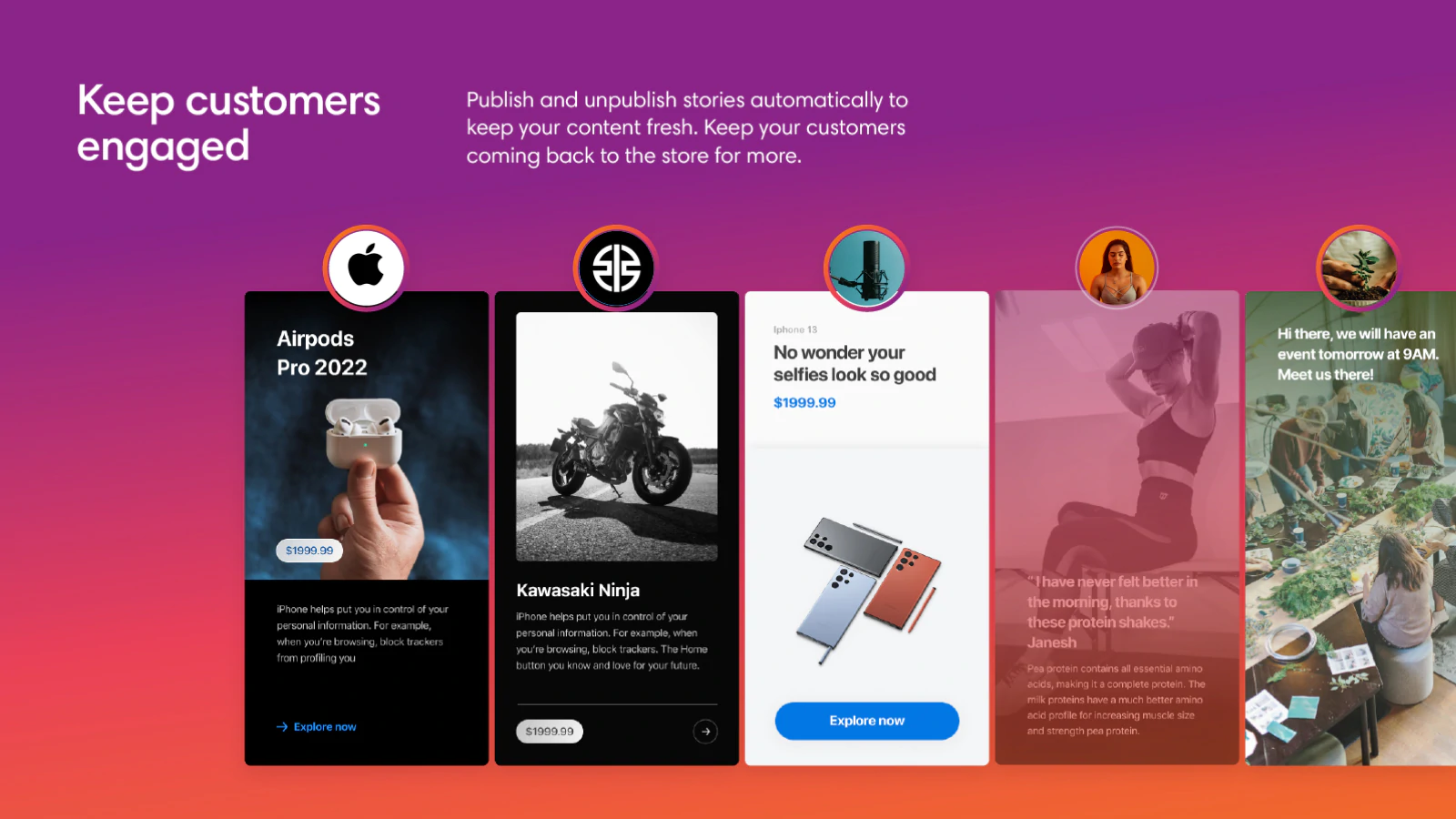 3. Web stories help you get customer data
Email information, character summaries, overarching impressions, etc. It's critical to get data when further expanding your knowledge. Behavior trends, product preferences, amount of time spent on particular pages... Shopify does provide you with some methods for gathering data, but it doesn't really provide you with a simple method for gathering data. Fortunately, web stories can be of assistance here.
You can easily put any question you want to pose to your audience within a tale. They will be in the right frame of mind after reading a web story that clearly explains why the customer should take the trouble to provide declared data. Customers of Shopify are always treated to a discount or a more customized shopping experience. You are certain to get the customer's attention if you present those offers in the context of a web story.
4. Web stories are easy to use
With all that we've mentioned so far, you may feel that web stories are fairly difficult to create. After all, designing and including all those visual elements can't be easy. Especially if you wish that it all looks well, and is well incorporated with your brand. Well, you'll be relieved to hear that it has never been easier to create web stories. By using one of XO Story's many templates, you can find the style that will work well within your Shopify store. And if you do some research, you can even learn how to weave your branding in properly.
You can always engage a qualified designer to develop a few templates for you if all of this sounds complicated. In such case, all you'll need to do is add relevant material to your web stories and add visual components in accordance with the designer's suggestions. Having a visual designer on retainer is thus advantageous, but it is not absolutely necessary.
Last thoughts
It's vital to keep in mind that while web stories can enhance your Shopify business, you must know how to create them well. Your online stories must be created with branding in mind and must offer clear, succinct information, just like any other type of content. Selecting the appropriate photos for your tales and integrating them into the overall design will be one of the biggest challenges.
But with XO Story, you can make web stories for no cost. Therefore, there isn't really a good reason for you to wait to start making them. So get started as soon as possible.